My Top 10 Movies of 2004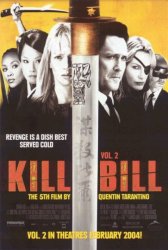 Why yes, the bride was back. The culmination of Quentin Tarantino's latest work really showed us how brutal the U.S. cinema could continue to be, as Q. wove a tale of family lost and revenge. Uma Thurman and the rest of the cast did a bang up job getting really banged up, and while some of the action might have been a little over the top, no one can argue with a sword fight in a trailer in the middle of a desert. At least no sane person.
Who said Micheal Moore was the only documentary film-maker who could make audiences squirm in 2004? Morgan Spurlock's freshman effort recieved many accolades as it made its way around the United States and at the many film festivals around the world. Taking a hard look at what could happen to the human body when only fast food is ingested made most people cringe at the thought, and hopefully made a fair number of people pass on their next serving of french fries.
The fall of a separated Germany. Once in a lifetime occurance. Unfortunately for our hero, his mother happened to be in a coma at the time. Oops. Great comedy with real family undertones about an entire neighborhood that comes together to help a woman continue living, despite needing to keep her alive through a lie. Were she to find out the truth, who knows what might happen to her...
Quirky comedy from MTV about a boy growing up in the midwest, and what basically appears to be any other period in his somewhat strange life. An older brother who meets women from the city on the internet, cow's milk drinking contests sponsored by our friends the FFA, and all of the unrequited love that so many of us experienced during high school. However, most of us didn't get to do some amazing dancing, or have a best friend with gang-connections.
One of the few sequels in recent memory to stand up and surpass the original movie in terms of simple movie greatness. On top of that, to be a comic book movie with superheroes and supervillians, and still not be a screw up. That's tough to come by, but Sam Raimi did the job with a great returning cast, and a fantastic new villian. I for one am looking forward to Spidey 3.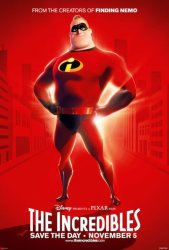 Another superhero movie. Sorry. One of Pixar's best efforts. I'm glad that they will be getting out from under the guise of the Mouse House; hopefully that'll put them into a position to do more work that isn't so cutesy all the time. I have nothing against animated fish, or bugs, but I would like to see something like a 'Final Fantasy', only without all the sucking. The Incredibles was a great movie, one which I reviewed right here. I enjoyed it immensely, and managed to get out to see it twice before it disappeared from the movie screens. It'll definitely be something I think about picking up on DVD, and truly was a film that could appeal to audiences of all ages.
Eternal Sunshine of the Spotless Mind:
Woe be it to those who say Jim Carrey can't be a dramatic actor. He had me sold early in 2004 of his ability, and I would hope to see him win a shot at a Best Actor Oscar for his amazing story of mind-erasure gone horribly wrong. A movie full of lessons, pain, and overall caring. People deliberately erasing things that have made their lives too painful to cope with otherwise. A state that we in reality are not too far off from. Thankfully, this movie was a lot better than 'Paycheck' which operated around a similar plot device.
Overmedicated young man gets a new lease on what had for a long time not been his life. I think a lot of people coming off of a childhood filled with medication might do exactly what happens here. It's a journey of self-rediscovery, or I suppose just self-discovery for the first time. As demonstrated it is strange and weird sometimes to go 'home' again to the place that you were born, but as it unfolds, it becomes obvious that home is truly where the heart is whether that be with a place, or with a person. Highly recommended for anyone who wants to feel good.... and possibly cry... not that I did... at all *flexes!*
Ray:
Jamie Foxx making the second amazing movie within a year. It's truly his time to shine. This movie takes a look nearly the entire lifetime of Ray Charles, celebrated singer and pianist. His was a story of conflict, drugs, adultery, and somehow being able to see the light at the end of it all, despite being completely blind past his early childhood. He had to suffer with the death of his brother as one of the last things he saw. It can't get much worse than that. This movie was amazing, and will be something to look forward to seeing again when it's released on DVD.
Hands down the funnest movie of the year, as well as being the funniest. I have been known from time to time to enjoy a good zombie movie, and I have been known to enjoy good comedies. Occasionally, I'll even suffer through one of those damn British rom-coms with Hugh Grant (but only for a lady!). This movie had it all; it was a comedy, it was a zombie flick, it was a buddy movie, it had a great soundtrack. To top it all off, it starts out with scenes we can all identify with! The 'urban zombie'. This has already been released on DVD, and if you don't have it yet, you should seriously consider buying it before the impending zombie crisis, since it will tell you exactly how to handle yourself!
My Top 10 Movies I'm glad I missed in 2004 (in no particular order of suckitude):
Torque
The Big Bounce
Jersey Girl
The Whole Ten Yards
Van Helsing
White Chicks
Catwoman
Thunderbirds
Taxi
Seed of Chucky